Kathy, from
Kathy's Cluttered Mind
, and I team up, every Friday, to bring you a list of
free
bies…on both of our blogs.
PLUS…with the added bonus of this being a weekly link up…where you can showcase your freebies, things you've found online, and also, things you've received in the mail, totally FREE in the last week…or so.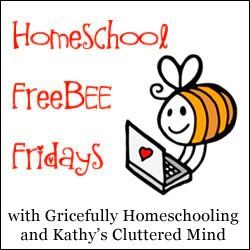 It's Friday already…
This week I only have a few things for you as this has been a busy week around here. But be sure to check out all the link ups…for more freebies.
Also, I thought I would share with you some free printables on fellow bloggers' websites. Check them out, thank them, and tell them Jen from Gricefully Homeschooling sent you:
{I had plans to make mine this week but just ran out of time…so I'll share Amanda's picture for now.}
Many frugal days homeschooling,

*Disclaimer – This blog post may contain affiliate links. Read more about this on the Disclosure page or my Affiliate Links page. Thank you.*