Attention bloggers and homeschoolers:
It's with great sadness that I share with you that this is my last Homeschool FreeBEE Friday Link Up post.
After several months of prayers, I've decided that God has me going into other directions, including this blog. I've always thought of this blog as my "ministry" to homeschool moms like you and me… who are just starting out, who get discouraged, and those who just feel that who are looking for ways to afford to homeschool their kids. But in October I started an intense Bible study of the life of King David. This has led me to feel anointed to dive more into God's plans for my life. I feel Him drawing more towards ministry. As I start walking that path, I felt that I needed to decide on what things to pick up and what things to put down. I want to use the talents that God has given me, for His glory. This was not something I wanted to put down but just felt it was time. Thankfully my good friend Kathy is willing to take over to continue this great link up for you.
Starting next month, Kathy's Cluttered Mind will be hosting the blog link up, Homeschool FreeBEE Friday. After this month please see her blog for a new link up button and for more information. Thank you for participating and checking out all of the freebies every month. I am excited to see how well this will do over at Kathy's Cluttered Mind.
Thank you for your understanding!
Welcome homeschoolers…
Each month, Kathy from Kathy's Cluttered Mind and I host a freebie link up we call Homeschool FreeBEE Fridays. Feel free to pin or bookmark this post, or any others, so you can come back at the end of month to see all of the freebies that are linked up.
Bloggers… grab our button (copy paste or get the code from the lower right sidebar), add it to your post, and then link up your freeBEEs! (Feel free to resize the button to fit your blog.)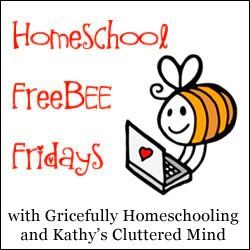 Many days growing and learning in Him,